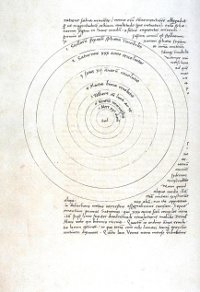 Just before his death Nicolaus Copernicus published De revolutionibus orbium coelestium in Nuremberg. De revolutionibus set out Copernicus's revolutionary theory of the heliocentric universe—that the earth and other planets revolve around the sun. The Copernican Revolution, however, was not completed until about one hundred years after the publication of De revolutionibus.
Because of the unusually extended delay between the publication of the Copernican theory and its acceptance by the scientific community, for many years historians believed that the book was not widely read at the time of its first publication. However, "Owen Gingerich, a widely recognized authority on both Nicolaus Copernicus and Johannes Kepler, disproved that belief after a 35-year project to examine every surviving copy of the first two editions. Gingerich showed that nearly all the leading mathematicians and astronomers of the time owned and read De revolutionibus; however, his analysis of the marginalia shows that they almost all ignored the cosmology at the beginning of the book and were only interested in Copernicus' new equant-free models of planetary motion in the later chapters" (Wikipedia article on De revolutionibus accessed 11-20-2008).
Up until the second decade of the seventeenth century the Church ignored the revolutionary implications of Copernicus's heliocentric theory of the solar system, partly because his system was useful for calendrical purposes, partly because of Andreas Osiander's anonymous and unauthorized preface "Ad lectorem" (long thought to be by Copernicus himself) presenting the heliocentric system as no more than a convenient calculating device, and partly because Copernicus himself "was annoyingly vague concerning whether or not he believed in the reality of his system" (Gingerich, p. 49). However, Kepler's insistence in his Astronomia nova (1609) on the possible physical reality of Copernicus's system and his revelation of Osiander as the true author of "Ad lectorem," coupled with Galileo's public support of Copernicanism and his attacks on the Aristotelian-Catholic view of the heavens (beginning with his Letter on sunspots [1613]), alerted the ecclesiastical establishment to the dangers to its own authority inherent in the new system. In 1616 the Church placed De revolutionibus on the Index librorum prohibitorum "until suitably corrected," and, for the only time in its history, spelled out the expected alterations to be made in the text. This belated attempt at censorship was a failure, however: the census of copies published by Owen Gingerich shows that only one copy in twelve contains the prescribed changes, and that copies in France, Spain and Protestant Europe largely escaped correction.
Gingerich, "The Censorship of Copernicus's De revolutionibus," Annali dell'Istituto e Museo di Storia della Scienza di Firenze, Fasicolo2 (1981). Hook & Norman, The Haskell F. Norman Library of Science and Medicine (1991) no. 516.