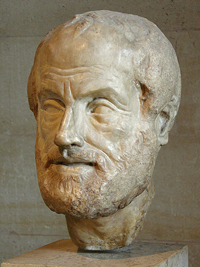 The library of Aristotle may be the first private library concerning which there is considerable discussion among early commentators. It is impossible to know how much of the discussion has basis in fact. Harris provides the following summary:
"Upon his [Aristotle's] death, this library was inherited by Aristotle's teaching successor, Theophrastus of Lesbos. . . . Theophrastus in turn enlarged the library and later bequeathed it to his nephew Neleus [of Scepsis]. Neleus was not a successful teacher, and in his later years withdrew from the school, taking his library with him to Scepsis in Asia Minor. [at the present site of the village of Kurşuntepe, near the town of Bayramiç in Turkey.] His descendants, apparently unlettered but aware of the value of the books, saved them by burying them, according to the geographer Strabo, to keep them out of the hands of the Attalid kings of Pergamum who were building up their famous library.
"Finally, about 100 B.C., the mildewed and worm-eaten remnants of Aristotle's library were sold to Appellicon of Teos, a minor Athenian military leader and book collector. Apellicon tried to restore the damaged volumes but only succeeded in damaging them further when he made incorrect 'corrections' for missing fragments of pages and otherwise edited the works. After his death, Athens was captured by the Roman general Sulla, who carried the library off to Rome, where it eventually became a part of Tyrannion's library. Another account relates that Ptolemy II (285-246 B.C.) acquired Aristotle's library directly from Neleus and brought it to Egypt to become a part of the great Alexandrian library. It is possible that both stories are partially correct, and it is quite probable that copies at least of Aristotle's library reached Alexandria eventually" (Harris, History of Libraries in the Western World 4th ed. [1999] 40-41).
For further information see Blum, Kallimachos: The Alexandrian Library and the Origins of Bibliography, tr. by H. Wellisch (1991) 2.6."The Library of Aristotle," 53-64.