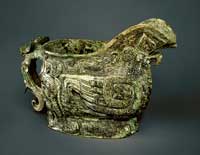 The earliest Chinese inscriptions in bronze date from the late Shang period (c. 1200-1045 BCE), the same period in which the oracle bone inscriptions were produced.
"Discovered at Anyang in Henan province and at sites in the central Yangzi region, Shang bronze objects belonged to members of the royal family and the political elite. Under Zhou rule (104-221 BC) this social level of ownership continued and even widened. In existence today are probably over ten thousand inscribed vessels, weapons, bells and other bronze objects made before the Qin unification of 221 BC.
"Inscriptions on most weapons are prominent and easily visible. By contrast, inscriptions on vessels of the Shang, and the following Western Zhou period (1045-770 BC) were usually placed on the vessels' interior surfaces, where they are much less clearly seen. . . .
"Precise practices at different bronze foundries varied, but nearly all inscriptions were prepared on a clay mould and cast from this on to the metal surface of an object. Most inscriptions are countersunk and positive. That is, characters do not rise above the surrounding metal surface, and the text is not a form of mirror-writing (a negative inscription). Inscriptions in relief were occasionally cast, but they became widespread only in association with ironwork in a much later period. Negative inscriptions are extremely rare. Texts were usually arranged in columns reading from right to left.
"In order to obtain a positive inscription the surface of the mould had to be prepared with the text in a negative form. To do this, the text was written with a stylus on the surface of wet clay. When hardened, this positive version could be pressed into a new supply of wet clay to provide a negative relief. Next, the hardened clay of the second version in negative could be trimmed and fitted as a block into an excavation on the mould core of the whole vessel. The mould and this fitting were then ready to receive the molten metal, which would re-form the inscription back into positive appearance. This method comprises the fewest transfer operations needed to cast a countersunk, positive inscription and allows for the text to be written out freehand in the same form that it will assume in metal.
"Bronze inscriptions are thus preservations of calligraphy in the medium of clay. Writing in wet clay offered a wide range of possibilities for variation and liveliness, and even quite early inscriptions show a concern for style" (Oliver Moore, Chinese [2000] 33, 36).