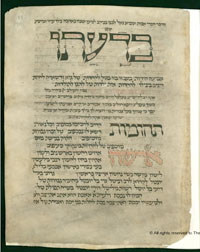 Yiddish originated in the Ashkenazi culture that developed from about the 10th century in the Rhineland and then spread to Central and Eastern Europe and eventually to other continents. The oldest surviving literary document in Yiddish, dates from 1272. It is a blessing in the Mahzor Worms, a festival prayerbook in Hebrew according to the Ashkenazi rite of the Jews in Worms, Germany, for the use of hazanim (cantors) in the synagogue.
The manuscript is preserved in the Jewish National and University Library of the Hebrew University of Jerusalem.
♦ You can download a digital facsimile of the Mahzor Worms from the Jewish National and University Library at this link: http://jnul.huji.ac.il/dl/mss/worms/a_eng.html, accessed 04-04-2010.