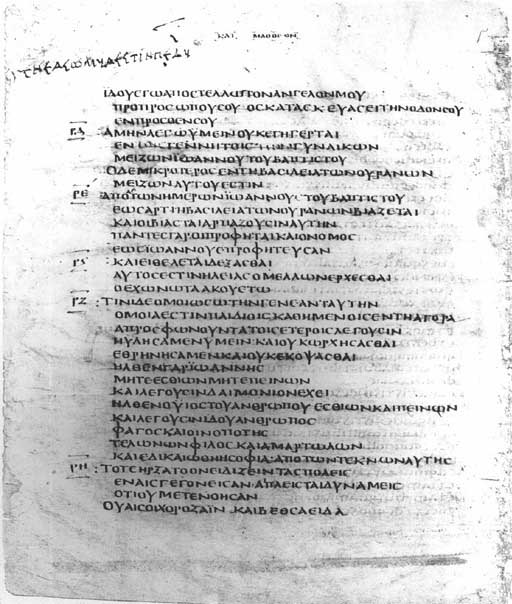 The Codex Bezae Cantabrigensis (Cambridge MS Nn.2.41), a codex of the New Testament dating from the end of the fourth or the beginning of the fifth century, was written on vellum by a single scribe in an uncial hand, with Greek and Latin texts on facing pages. Consisting of 510 leaves written in one column per page out of, perhaps, an original 534, it includes most of the four Gospels and Acts, with a small fragment of the Third Epistle of John. Its Latin version is one of a small handful of manuscripts which document the development of the Latin version of the Bible before Jerome's Vulgate, which was commissioned in 382.
"No known manuscript has so many and such remarkable variations from what is usually taken to be the normal New Testament text. Codex Bezae's special characteristic is the free addition (and occasional omission) of words, sentences, and even incidents. . . ." (Metzger & Ehrman, The Text of the New Testament. Its Transmission, Corruption and Restoration 4th ed [2005] 71).
Where the manuscript was written is uncertain. Places proposed for its origin include southern France, Africa, Egypt, Palestine, and Berytus (Beirut).
"The manuscript is believed to have been repaired at Lyon in the ninth century as revealed by a distinctive ink used for supplementary pages. It was closely guarded for many centuries in the monastic library of St Irenaeus at Lyon. The manuscript was consulted, perhaps in Italy, for disputed readings at the Council of Trent, and was at about the same time collated for Stephanus's edition of the Greek New Testament. During the upheavals of the Wars of Religion in the 16th century, when textual analysis had a new urgency among the Reformation's Protestants, the manuscript was taken from Lyon in 1562 and delivered to the Protestant scholar Theodore Beza [Theodore de Bèze] the friend and successor of Calvin, who gave it to the University of Cambridge, in the comparative security of England, in 1581, which accounts for its double name" (Wikipedia article on the Codex Bezae Cantabridgensis).
The Codex Bezae is preserved at Cambridge University Library. In December 2013 a digital facsimile was available from Cambridge at this link.
(This entry was last revised on 03-16-2014.)