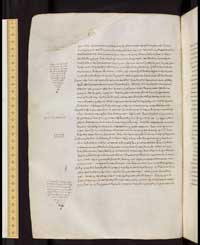 In 895 Johannes calligraphus of Constantinople copied the "Clarke Plato" (Bodleian Library MS. E. D. Clarke 39) for Arethas of Patrae, later Bishop of Caesarea in Cappadocia (Kayseri, Turkey). The cost was 21 nomismata, or gold coins, for the copying and the parchment. Completed in November 895, this is the oldest surviving manuscript of Plato's Tetralogies 1-6 (Euthyphro-Meno), with some scholia. The scribe Johannes wrote out the text of the twenty-four dialogues present in the manuscript. Arethas and other contemporaries added scholia in uncial.
The manuscript also contains annotations by many later hands. It is thought that this may be the first volume of a two-volume copy of the whole of Plato, the second volume of which has not been identified.
Sometime between the inventory of 1382 and 1581-1582 the manuscript was purchased by the monastery of St. John the Theologian on the Island of Patmos. In 1801 E. D. Clarke purchased it from the monastery, and donated it to the Bodleian Library, where it is preserved today.
Hunt, R.W., The Survival of Ancient Literature. Oxford: Bodleian Library, 1975, No. 56.
A digital facsimile is available from Digital Bodleian at this link.