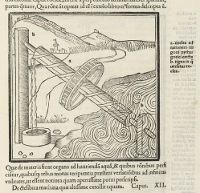 On May 22, 1511 Veronese architect, antiquary, archaeologist, and classical scholar, Fra Giovanni Giocondo published the first illustrated edition of Marcus Vitruvius Pollio's De architectura in Venice at the press of Giovanni Tacuino. The edition contained 136 woodcut text illustrations, woodcut initials and a woodcut title-border. The title-border, a continuous design in four parts incorporating dolphins, leaves and flowers, may be the original of one of the most influential and widely copied pieces of printed ornamentation in the 16th century. Geofroy Tory copied the border (without the shading) to use on his 1525 Horace, and variations of the floreated dolphin design appear in books from all the major European centers of printing.
This fourth printed edition, the first to be illustrated with more than diagrams, was prepared by Fra Giovanni Giocondo, the Veronese architect who took over the construction of St. Peter's in Rome after Donato Bramante's death. The illustrations probably date from around the time of printing, as those that might have accompanied Vitruvius's original text on papyrus rolls or early parchment codices had been lost for centuries.
Mortimer, Harvard College Library, Department of Printing and Graphic Arts, Italian 16th Century Books (1974) No. 543. Hook & Norman, The Haskell F. Norman Library of Science and Medicine (1991) No. 2157.