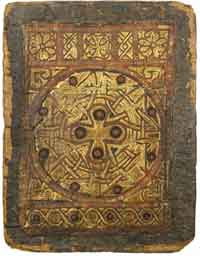 A Coptic bookbinding removed from an illuminated manuscript on parchment of the Four Gospels (MS M. 569) attributed to the Monastery of Holy Mary Mother of God, Perkethoout near Hamuli, Faiyum, Egypt, and preserved in the Morgan Library and Museum, is considered "the finest surviving Coptic bookbinding." It is tooled goatskin over papyrus boards; decorated with onlaid panels of red leather tracery sewn to a gilded leather ground, with plain edges.
"In 1910 the library of the ancient Coptic monastery of St. Michael of the Desert was discovered in southern Faym, near the village of Hamuli. Nearly sixty parchment volumes were found in a stone cistern, many still in their original bindings; they compose the largest surviving group of inact Coptic codices coming from a single source. The following year, Pierpont Morgan purchased the Hamuli manuscripts from a Paris art dealer, almost en bloc. At least five of the codices had already strayed, and are now in the Coptic and Egyptian Museums in Cairo, and a number of fragments, broken up from whole codices after the find, were more widely dispersed. That the remainder was kept together was due especially to the efforts of Professors Emile Chassinat and Henry Hyvernat.
"Before the discovery of the Hamuli codices there was no record of the monastery of Archangel Michael, but it was well known that the Fayum had been a thriving center of Coptic religious life, and that dozens of monasteries had been situated there. The Hamuli codices are all service books, intended for public reading, and their format is large. Only six are less than thirteen inches tall (33 cm.), and only one less than twelve inches (30cm.). They include various parts of the Bible, a Lectionary, an Antiphonary, and many volumes of Synaxeries, collections of readings--hagiographic, homiletic, and more generaly devotional--belonging to particular feast days. The number of distinct texts, exclusive of the Bible, numbers well over one hundred, many otherwise unknwon. Twenty of the codices have dated colophons, from 823 to 914, containing valuable information concerning the organization and personnel of St. Michael's, and its relations with neighboring monasteries. The relatively narrow chronological span of the codices suggests that the monastery disbanded or was destroyed sometime in the tenth century.
"It should be explained that through this period Egypt was part of the Islamic world, having fallen abruptly out of the Byzantine sphere in 641. This transfer of imperium had few if any immediate deleterious effects on Egyptian Christianity, which was already thoroughly aliented from Byzantium. Its submergence into a minority role in Egypt (but always and still an important one) came about gradually, as did the disappearance of the Coptic language. The general policy of medieval Islam toward Christian and Jewish subjects was tolerant, though they were required to pay a special infidels' tax. There were a number of sporadic instances of persecution in Egypt, the most extensive being that initiated by the Fatimid caliph al-Hakim (996-1020), which is known to have resulted in the destruction of many churches and monasteries. It may have been at this time that St. Michael of the Desert went under" (Needham, Twelve Centuries of Bookbindings 400-1600 [1979] no. 2, 12).