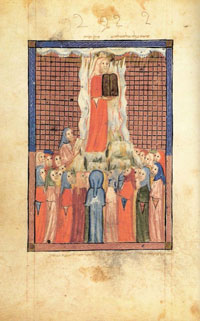 Considered the most beautiful Jewish illuminated manuscript in existence, and the oldest Sephardic Haggadah, the Sarajevo Haggadah, was produced in the mid-14th century in Barcelona, Spain. It was written on bleached calfskin and illuminated in copper and gold, and opens with 34 pages of illustrations of biblical scenes from creation through the death of Moses. Its pages are stained with wine— evidence that it was used at many Passover Seders. It is preserved at the National Museum of Bosnia and Herzegovina in Sarajevo.
"The Sarajevo Haggadah has survived many close calls with destruction. Historians believe that it was taken out of Spain by Spanish Jews who were expelled by the Alhambra Decree in 1492. Notes in the margins of the Haggadah indicate that it surfaced in Italy in the 1500s. It was sold to the National Museum in Sarajevo in 1894 by a man named Joseph Kohen.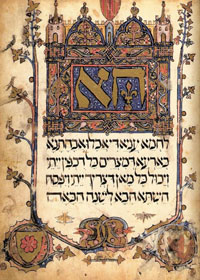 "During World War II, the manuscript was hidden from the Nazis by the Museum's chief librarian, Dervis Korkut, who at risk to his own life, smuggled the Haggadah out of Sarajevo. Korkut gave it to a Muslim cleric in Zenica, where it was hidden under the floorboards of either a mosque or a Muslim home. During the Bosnian War of the early 1990s, when Sarajevo was under constant siege by Bosnian Serb forces, the manuscript survived in an underground bank vault. To quell rumors that the government had sold the Haggadah in order to buy weapons, the president of Bosnia presented the manuscript at a community Seder in 1995.
"Afterwards, the manuscript was restored through a special campaign financed by the United Nations and the Bosnian Jewish community in 2001, and went on permanent display at the museum in December 2002" (Wikipedia article on Sarajevo Haggadah, accessed 03-23-2009).