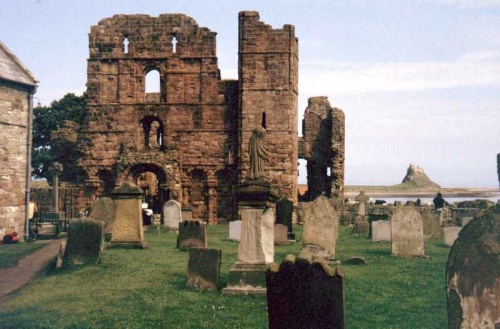 In the first Viking raid on Britain, on June 8, 793, Vikings, sacked the monastery of Lindisfarne, a center of learning famous across the continent, built on a tidal island off the northeast coast of England. Among the spoils of the attack was the famous library at Lindesfarne.
"Monks were killed in the [Lindisfarne] abbey, thrown into the sea to drown or carried away as slaves along with the church treasures. Three Viking ships had beached in Portland Bay four years earlier, but that incursion may have been a trading expedition that went wrong rather than a piratical raid. Lindisfarne was different. The Viking devastation of Northumbria's Holy Island shocked and alerted the royal Courts of Europe. 'Never before has such an atrocity been seen,' declared the Northumbrian scholar Alcuin of York. More than any other single event, the attack on Lindisfarne cast a shadow on the perception of the Vikings for the next twelve centuries. Not until the 1890s did scholars outside Scandinavia begin seriously to reassess the achievements of the Vikings, recognizing their artistry, the technological skills and the seamanship" (quoted from the Wikipedia article on the Viking Age, accessed 11-22-2008).
"Monasteries were a favoured target due to the riches which were contained in them. Jarrow was invaded in 794 and Iona in 795, 802 and 806. After repeated raids by the Norsemen, the monks of Lindisfarne fled the monastery in AD 875, taking the venerated relics of Saint Cuthbert with them for safekeeping" (http://www.englishmonarchs.co.uk/vikings_5.htm, accessed 11-22-2008).
(This entry was last revised on 12-23-2016.)