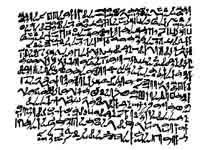 The Prisse Papyrus, a papyrus roll dating from the Egyptian Middle Kingdom, may be considered the earliest known book form document, as compared to the relatively fragmentary papyri from the 27th year of Khufu's reign discovered at Wadi al-Jarf. A literary manuscript, the Prisse papyrus contains the last two pages of the Instruction addressed to Kagemni, who purportedly served under the 4th Dynasty king Sneferu, and is a compilation of moral maxims and admonitions on the practice of virtue. The conclusion of the Instruction addressed to Kagemni is followed by the only complete surviving copy of the Instruction of Ptahhotep.
The papyrus was obtained by the French orientalist Achille Constant Théodore Émile Prisse d'Avennes at Thebes in 1856. It is preserved in the Bibliothèque nationale de France.
Hunter, Papermaking: The History and Technique of an Ancient Craft (1947) 464.