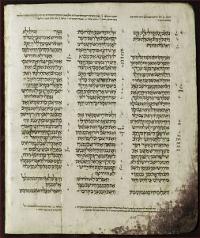 The Aleppo Codex, the earliest extant manuscript of the complete Hebrew Bible, was written by a scribe named Salomon about 930 CE. It was proofread, vocalized and edited by Aaron ben Moses ben Asher who lived in Tiberias. Asher was the last of an important family of masoretes, or textual scholars of the Bible, who preserved and handed down the commonly accepted version of the Hebrew Bible from generation to generation. Since the twelfth century, when Maimonides considered it the most authoritative source of the text, the Aleppo Codex has been considered the most authoritative source for the Hebrew Bible.
For more than a thousand years, the manuscript was preserved in its entirety in important Jewish communities in the Near East: Tiberias, Jerusalem, Egypt, and in the city of Aleppo in Syria. However, in 1947, after the United Nations Resolution establishing the State of Israel, the manuscript was damaged in riots that broke out in Syria. At first people thought that it had been completely destroyed, and approximately one-third of the Aleppo Codex, including all of the Torah is missing. However, it turned out that most of the manuscript had been saved and kept in a secret hiding place. In 1958, the Aleppo Codex was smuggled out of Syria to Jerusalem and delivered to the President of the State of Israel, Yitzhaq Ben Zvi. It is preserved in Jerusalem in the Shrine of the Book.
Friedman, The Aleppo Codex. A True Story of Obsession, Faith, and the Pursuit of an Ancient Bible (2012).
See also: http://www.nytimes.com/2012/07/29/magazine/the-aleppo-codex-mystery.html?hp