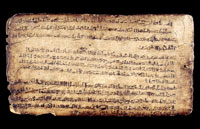 In addition to papyrus, wood was used as a writing medium in the ancient world, though far fewer examples have survived than writing on papyrus, clay, or stone. An example of an ancient Egyptian wooden writing board is that containing text of the words of Khakheperresoneb preserved in the British Museum (EA5645).
"The main uses of writing boards in ancient Egypt included writing practice. This board is made from wood overlaid with gesso to provide a surface for writing, which could then be easily erased when required. Fortunately, this board was not erased, since it is the major source for one of the literary texts of the Middle Kingdom (2040-1750 BC): the Words of Khakheperresoneb.
"The name of the author, Khakheperresoneb, is based on one of the royal names of King Senwosret II of the Twelfth Dynasty (about 1844-1837 BC). This suggests that the original text was composed in the late Twelfth Dynasty some two hundred years earlier than this copy. It was common for works of literature that were considered to be classics to be repeatedly copied in their entirety or in sections in the New Kingdom (about 1550-1-70 BC). The small red dots in the text are termed 'verse points' and mark the ends of lines of verse" (http://www.britishmuseum.org/explore/highlights/highlight_objects/aes/w/wooden_writing_board_and_text.aspx, accessed 07-11-2009).