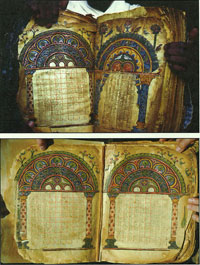 The Gospels of Abba Garima, an illuminated gospel book in two volumes written on vellum in the Ge'ez language and preserved in the Abba Garima Monastery east of Adwa, in the Mehakelegnaw Zone of the Tigray Region of northern Ethiopia, were, according to legend, written and partly illuminated by the Ethiopian missionary Abbu Garima, who is thought to have arrived in Ethiopia in 494 CE. Most outside scholars and scientists previously agreed that the gospels, based on Garima's teachings, were written centuries after his death, probably by priests in the tenth century. However recent radiocarbon dating carried out at Oxford University suggested a date between 330 and 650 CE for their creation, opening the possibility that the gospels were actually created by Abba Garima. If the Abba Garima Gospels date from the time of Abba Garima (circa 500), they are possibly the earliest surviving illuminated Christian manuscripts.
"Garima 2, the earlier of the two, is believed to be the earliest surviving complete illuminated Christian manuscript.[1][2] Monastic tradition holds that they were composed close to the year 500,[1] a date supported by recent radiocarbon analysis; samples from Garima 2 proposed a date of c. 390-570, while counterpart dating of samples from Garima 1 proposed a date of c. 530-660.[3]" (Wikipedia article on Garima Gospels, accessed 7-2019).
"The survival of the Garima Gospels is astonishing, since all other early Ethiopian manuscripts seem to have been destroyed during turbulent times. Very little is known about the history of the Abba Garima Monastery, but it may have been overrun in the 1530s by Muslim invaders. More recently, in 1896, the area was at the centre of resistance to Italian forces. The monastery's main church was destroyed by fire in around 1930.
"The survival of the Garima Gospels may have been due to the fact that they were hidden, perhaps for centuries or even for more than a millennium. The hiding spot may have been forgotten, and it could have been rediscovered by chance in relatively modern times.
"In 1520, Portugues chaplain Francisco Álvarez visited the monastery and recorded that there was a cave (now lost or destroyed), where Abba Garima was reputed to have lived. Álvarez reported that the monks would descend into it by ladder to do penance. Although speculation, it is possible that the Gospels may have been hidden in this cave" (http://ethiopianheritagefund.org/artsNewspaper.html, accessed 07-10-2010).
In 2007 the English binder and restorer Lester Capon did a partial restoration of bindings of the Abba Garima Gospels and wrote about it with great photos in the Skin Deep blog of leather manufacturers J. Hewit & Sons under the title of Extreme Bookbinding.