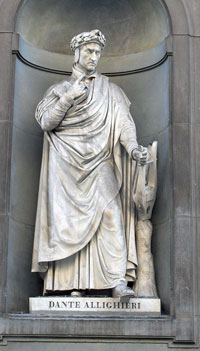 Between 1308 and 1321 Italian poet Dante Alighieri, a Florentine, also called the "Father of the Italian language," composed the Divine Comedy (Divina Commedia), an allegorical vision of the afterlife as a culmination of the medieval world-view. The work was originally called Commedia, but later changed to Divina Commedia by the Italian author and poet Giovanni Boccaccio. Printed editions did not add the word Divina to the title until that of that of the Venetian humanist Lodovico Dolce, published in 1555 by Gabriele Giolito de' Ferrari.
No original manuscript written by Dante survived, though we have over 600 manuscript copies from the 14th century, and probably even more from the 15th century. Beginning with a commentary written in 1333 by Dante's son Jacopo, 15 medieval commentaries on the Divina Commedia were written.
The first dated illustrated manuscript of the Divina Commedia was written in 1337 by the notary and poet Ser Francesco di Ser Nardo da Barberini (Francésco da Barberino) (Milan, Biblotheca Trivulziana MS. 1080). It was illuminated in Florence by the artist known as the Master of the Dominican Effigies. In March 2014 images of this manuscript were available from the Bibliotheca Augustana website at this link.
"The legend is that Ser Francesco provided dowries for his daughters by writing out a hundred mansuscripts of the Divine Comedy, and it is curious that there are at least three other copies so closedly related to the signed mansucript in their script and decoration that they must have been produced together: Flrorenc, Bibl. Laur. Strozz. MS 152, Bibl. Naz. Palat. MS 313, and Pierpont Morgan Library M. 289. The proceeds of even a few such books would make any daughter worth chasing" (De Hamel, A History of Illuminated Manuscripts [1986] 143-44).
From the textual standpoint the most precious 14th century manuscripts of the Divina Commedia may be the three full copies made by Giovanni Boccaccio during the 1360s. Even by this early date Boccaccio could not consult Dante's original manuscript.
(This entry was last revised on March 23, 2014.)