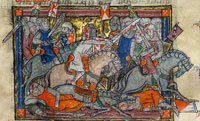 Between 1315 and 1323 The Rochefoulcauld Grail was written and illuminated in Flanders or Artois by the same team of artists and scribes who produced the deluxe copies of the text now London, British Library, Add. MS. 10292-4 and Royal MS.14.E.III) perhaps for Guy VII, baron de La Rochefoucauld. It is one of the principal manuscripts of the greatest romance of the Middle Ages, with 107 miniatures illustrating warfare, chivalry and courtly love. It contains the Lancelot-Grail cycle in French prose, the oldest and most comprehensive version of the legend of King Arthur and the Holy Grail.
The manuscript was sold at Sotheby's London on December 10, 2010 for £2,393,250 including premium. The Sotheby's catalogue description, presumably written by Christopher de Hamel, included the provenance and numerous published references. The manuscript sold consisted of three volumes. A fourth volume of the manuscript is divided between the Bodeleian Library, Oxford (Douce MS 215) and the John Rylands Library, Manchester (MS Fr. 1).
In February 2014 a selection of images from the manuscript was available from Theguardian.com at this link.