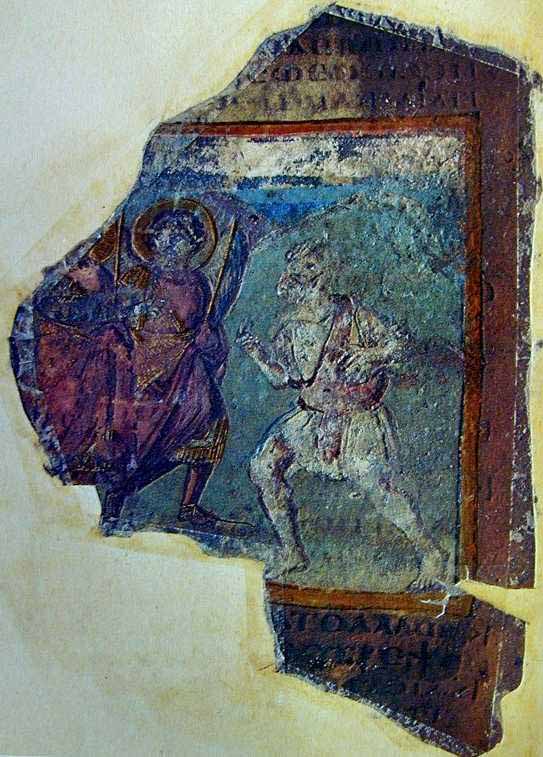 The Cotton Genesis, (British Library Cotton MS Otho B VI. f. 026v) a luxury manuscript with many illuminations, is one of the oldest surviving illustrated biblical codices. However, most of the manuscript was destroyed in the Cotton library fire in 1731, leaving only eighteen charred, shrunken scraps of vellum, preserved in the British Library. It is thought that the manuscript originally extended to more than 440 pages with approximately 340 miniature paintings that were framed and inserted into the text column.
"The miniatures were executed in late antique style comparable to Catacomb frescoes. Herbert Kessler and Kurt Weitzmann argue that the manuscript was produced in Alexandria, as it exhibits stylistic similarities to other Alexandrian works such as the Charioteer Papyrus.
"The Cotton Genesis appears to have been used in the 1220s to design 110 mosaic scenes in the atrium of St Mark's Basilica in Venice, after it was brought to Venice following the sack of Constantinople in 1204. The manuscript arrived in England, and was acquired by Sir Robert Cotton [Robert Bruce Cotton] in the 17th century." (Wikipedia article on Cotton Genesis, accessed 11-26-2008).
"The manuscript was presented to Henry VIII in the 16th century, and passed by descent to Elizabeth I. It subsequently came into the possession of Sir Robert Cotton (1571–1631). Cotton's vast collection of manuscripts was augmented by his son, Sir Thomas Cotton (1594–1662), and grandson, Sir John Cotton (1621–1702), who bequeathed the collection to the nation. The Cotton library subsequently formed one of the foundation collections of the British Museum in 1753."
Regarding what some of the missing or fragmentary images might have looked like see Marion Wenzel, "Deciphering the Cotton Genesis Miniatures: Preliminary Observations Concerning the Use of Colour"(1987). In February 2014 this paper was available from the British Library website at this link.