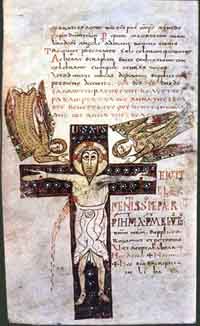 "The Carolingian period is the first great epoch of book illumination on the continent since antiquity. Its ornamental book art perpetuates types current in the Merovingian period and at the same time in many places reflects the influence of Insular decoration. Furthermore, it harks back directly to motifs from antiquity (tendrils, palmettes, acanthus, meander) which then had the result that the repertoire of forms of the centuries immediately preceding were banished, or else mixed styles came about. In figural representation antique and early Christian models were followed closely and their study set free new and original facets of creativity.
"A demonstration of what richness in initial forms and motifs a virtuoso and imaginatively inspired late-eighth-century miniaturist could employ is given by the master craftsman who wrote the Gellone sacramentary" (Bischoff, Latin Palaeography: Antquity and the Middle Ages [1990] 208-9).
The Gellone Sacramentary is preserved at the Bibliothèque nationale de France (Latin 12048). In February 2014 a digital facsimile of the manuscript was available at this link.