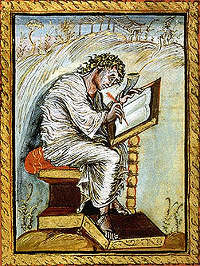 The Ebbo Gospels (Épernay, Bibliothèque Municipale, Ms. 1), a Carolingian illuminated Gospel book known for an unusual, energetic style of illustration, was produced at the Benedictine abbey of Hautvillers, near Reims, under the patronage of Ebbo, Archbishop of Reims. Because it contains a poem to Ebbo, it has been dated from the times that Ebbo was archbishop of Reims (c. 816-835, and 840-841).
"Each page is 10 in by 8 in. The illustration has its roots in late classical painting. Landscape is represented in the illusionistic style of late classical painting. Greek artists fleeing the Byzantine iconoclasm of the 8th century brought this style to Aachen and Reims (Berenson, 163). The vibrant emotionalism, however, was new to Carolingian art and also distinguishes the Ebbo Gospels from classical art. Figures in the Ebbo Gospels are represented in nervous, agitated poses. The illustration uses an energetic, streaky style with swift brush strokes. The style directly influenced manuscript illumination for decades, as the Codex Aureus of St. Emmeram bears witness (Calkins, 211). The Utrecht Psalter is the most famous example of this school (Berenson, 163).
"Commentators have noted the similarity between the Utrecht Psalter and the Ebbo Gospels. The evangelist portrait of Matthew in the Ebbo Gospels is similar to the illustration of the psalmist in the first psalm of the Utrecht Psalter (Benson, 23; Chazelle, 1073). Other images in the Ebbo Gospels appear to be based on distortions of drawings which may have been from the Utrecht Psalter (Chazelle 1074)" (Wikipedia article on Ebbo Gospels, accessed 12-25-2008).