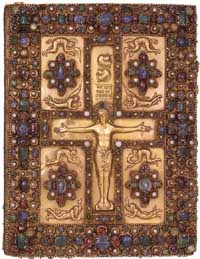 The Lindau Gospels, MS M1 in the Morgan Library & Museum, was written and illuminated in the Abbey of St. Gall, Switzerland, possibly by the scribe, Folchard, who also may have been the artist. It contains four title and four incipit pages in gold on vellum stained purple, twelve canon tables on purple backgrounds, lettered in gold and silver, 2 carpet pages.
"The magnificent upper cover of the Lindau Gospels can be fitted more closely than the lower cover into a recognized tradition of Carolingian goldsmiths' work. It is one of three major pieces ascribed to a Court School of Charles the Bald (regn. 840-77), grandson of Charlemagne. A number of works in other media--illuminated manuscripts, ivories, and carved rock crystals--have also been ascribed to the school. Much ink has been spilt in trying to locate these stylistically related ateliers, a question particularly difficult to answer for the age of itinerant courts: St. Denis, where Charles was secular abbot from 867 to his death, has frequently been suggested.
"The two other pieces with which our cover has been associated are the Arnulf Ciborium, or portable altar, and the cover of the Codex Aureus of St. Emmeram. Both are now in Munich, but were for many centuries part of the treasure of the monastery of St. Emmeram, Regensburg. . . .
"The provenance of the Lindau Gospels upper cover is, unfortunately, much less clear. We have already noted the attempt to identify this volume with the Gospels commissioned by Abbot Hartmut of St. Gall before 883, and decorated by him with gold silver and precious stones; in any case, the Lindau Gospels was written in St. Gall at much the same time its upper cover was made, the latter part of the ninth century. But it is difficult to imagine that a goldwork masterpiece from the royal workshop was created specifically for the abbot of St. Gall, and although the Lindau Gospels is a handsome manuscript, it has not a tithe of the spendor of the Codex Aureus, which is roughly the degree of luxus we should expect to find. Even within the St. Gall scriptorium, the Lindau Gospels does not represent the highest level of luxury. It seems likely that our cover was originally made to fit a much more highly decorated manuscript (though of smaller format than the Codex Aureus), and one more closely tied to the Frankish court. The question of how and when it joined its present codex is as much a mystery for the upper cover as for the lower" (Needham, Twelve Centuries of Bookbindings 400-1600 [1979] 28-28).