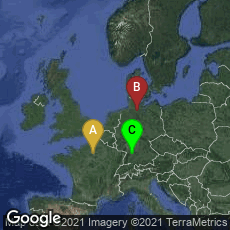 A: Paris, Île-de-France, France, B: Bezirk Eimsbüttel, Hamburg, Hamburg, Germany, C: Stuttgart-Mitte, Stuttgart, Baden-Württemberg, Germany
Helmut Gröttrup & Jürgen Dethloff Invent the "Smart Card"
In 1968 German electrical engineers Helmut Gröttrup of Stuttgart and Jürgen Dethloff, of Hamburg, invented the smart card (chip card, or integrated circuit card [ICC]) and applied for the patent. The patent for the smart card was finally granted to both inventors in 1982. The first wide use of the cards was for payment in French pay phones—France Telecom Télécarte—starting in 1983-84.
Timeline Themes