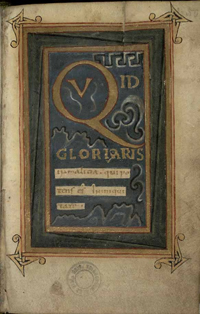 The oldest Scottish book remaining in Scotland is an eleventh century illuminated version of the Psalms of King David preserved in the Center for Research Collections at Edinburgh University Library. The Celtic Psalter, with Celtish and Pictish illuminations, was exhibited at the library for the first time in its recorded history in December 2009.
"The origin of the psalter is a mystery but experts believe it was probably produced by monks in Iona, who were also associated with the making of the Book of Kells. It is thought that the book was written for someone of major importance, with one possibility being St Margaret, who was Queen of Scotland around the time it was produced.
"The 144-page medieval Psalter includes Pictish designs of colourful dragons, beasts and monsters, with images on almost every page" (http://medievalnews.blogspot.com/2009/12/celtic-psalter-scotlands-oldest-book.html, accessed 12-10-2009).